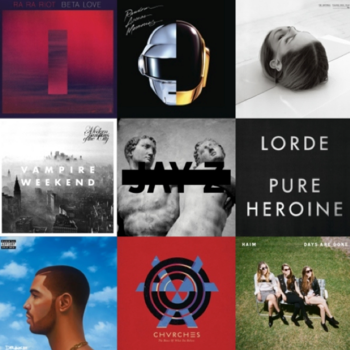 It is time for the annual new album roundup! This is the one thing I consistently write about it seems. The following are the new albums I listened to most in 2013. I made a Rdio playlist of selected songs from them as well.
Like 2012 I purchased zero albums and listened almost entirely via Rdio (and sometimes in Spotify "private" mode when too embarrassed to share a pop obsession). We added a Sonos Play 1 to the mix at home since 95% of the music I listen to is in the cloud, although I still drag around a giant iTunes library.
10. Drake, Nothing Was the Same - This one grew on me, not as much as "Take Care" but still found myself listening to it a lot. I appreciate that his sound is different than a lot of other hip hop.
9. The National, Trouble Will Find Me - I think they are at their best when they have different dynamics in the same song, like on the great "Demons". Found this a solid album for driving-and-thinking (and maybe trying to lull the kid to sleep too).
8. Ra Ra Riot, Beta Love - I got into this late in the year but was hooked by the pop/dance infectiousness. The title track is uber-catchy.
7. Jay Z, Magna Carta…Holy Grail - While he doesn't have a struggle to rail against and has supremely made it, still highly entertaining on tracks like "f*ckwithmeyouknowigotit". Also, the "Legends of the Summer" concert was great and by far the largest show I've seen.
6. Daft Punk, Random Access Memories - I listened to this album enough to make myself slightly sick of it but "Instant Crush" and "Doin' It Right" were on repeat for a long time.
5. Haim, Days Are Gone - Apparently it was a good year for me liking girl bands. This album feels like a more rocking version of Tegan & Sara on tracks like "Falling", which is a-ok by me.
4. CHVRCHES, The Bones of What You Believe - Great rock album with an interesting synth sound. The song "Lies" was the standout track for me, and in my head for days.
3. Pusha T, My Name is My Name - Having really liked him as part of Clipse and on "New God Flow" I liked the diversity of great tracks on the album. "Numbers on the Board" and "Nosetalgia" are highlights, especially Kendrick Lamar's contribution on the latter.
2. Lorde, Pure Heroine - An enormous amount has already been written about Lorde and rightly so. "Royals" is fantastic and the rest of the album impressively lives up to it.
1. Vampire Weekend, Modern Vampires of the City - I loved this album, and feels like their best to date. I really liked "Graceland" as a kid and this has a modern take on what I loved about that.